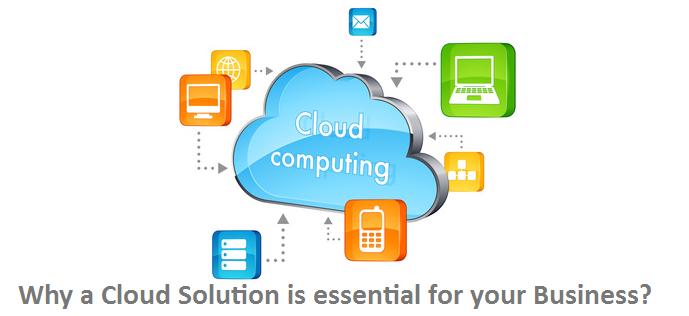 Why a Cloud Solution is essential for your Business?
While small businesses are having a hard time competing with the big players there are various things that they cannot come at par with but there are certain process which they can definitely improve upon by leveraging the cloud for their business functions.
Apart from data storage for anytime and anywhere access businesses can also run many applications in the cloud allowing them to become more flexible and lean. This is a great benefit for businesses which can allow their client and employees to access data globally or cater to the BYOD culture.
There are various reasons that make cloud a good solution for SMB's.
Quick Setup
Many small businesses are short of working capital and time and need something which can be put to use at the earliest. A cloud solution is something that meets this criterion as it can be easily setup and put to use quickly.
With cloud services for web hosting, email and other SaaS solutions that allow businesses to carry out many of their businesses functions in the cloud like bookkeeping, HRM and many more. This makes them efficient and improves the business functioning by making most of the available resources.
Reduced reliance on IT staff
If you implement a SaaS solution in your business then it relieves you of various connected responsibilities of traditional software suites which need regular update and involve costly licensing feed. Since you have a minimal IT setup you need not employ a full time IT staff as well and further reduce your expenses. This relieves of the need of a regular maintenance program and the associated costs.
Lower expenses
The often cash starved startup businesses benefit greatly in terms of cost savings as well, as they do not have to maintain much on premise IT equipments and need not pay huge amounts of money either. A subscription based service which they pay on usage basis like (SaaS) allows them to run their business effectively and in turn keep the expenses at bay.
Makes You Flexible
In a modern business there are many employees that work remotely and need to collaborate with their peers on a frequent basis. Using many cloud based solutions they could easily work on projects and access important files with ease. Ex: Evernote.
Choose what's apt
Unlike traditional on-premise solution where you have to live the setup which is once implemented you can check out various cloud based solutions and sing up for the one which meets your requirements.
Many businesses often setup on-premise solution to find out that they do not need such a solution or that they have invested more than what is needed. This not only leads to waste of resources but also impacts growth as one cannot immediately switch an alternative solution.
However, more and more businesses are looking to adopt cloud based services and get more of their process in the cloud. From email, finance to CRM businesses are looking to take advantage of the cloud to its fullest.
Cloud computing has allowed many businesses and online shop owner to become more flexible and has helped them grow. For the above mentioned benefits you might also consider a cloud based solution by ESDS for your business.

Latest posts by Naresh Puro
(see all)