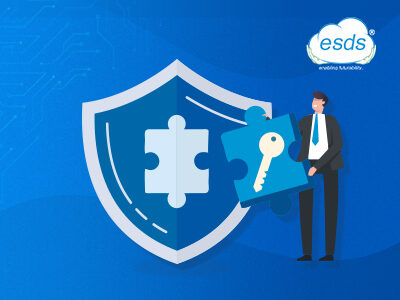 Managed security services – Partnering with you for safety
Managed security services are becoming more and more popular among businesses. A constantly changing threat landscape necessitates competent security talent and knowledge, yet both are in short supply, and it's imperative to continuously monitor and handle security incidents.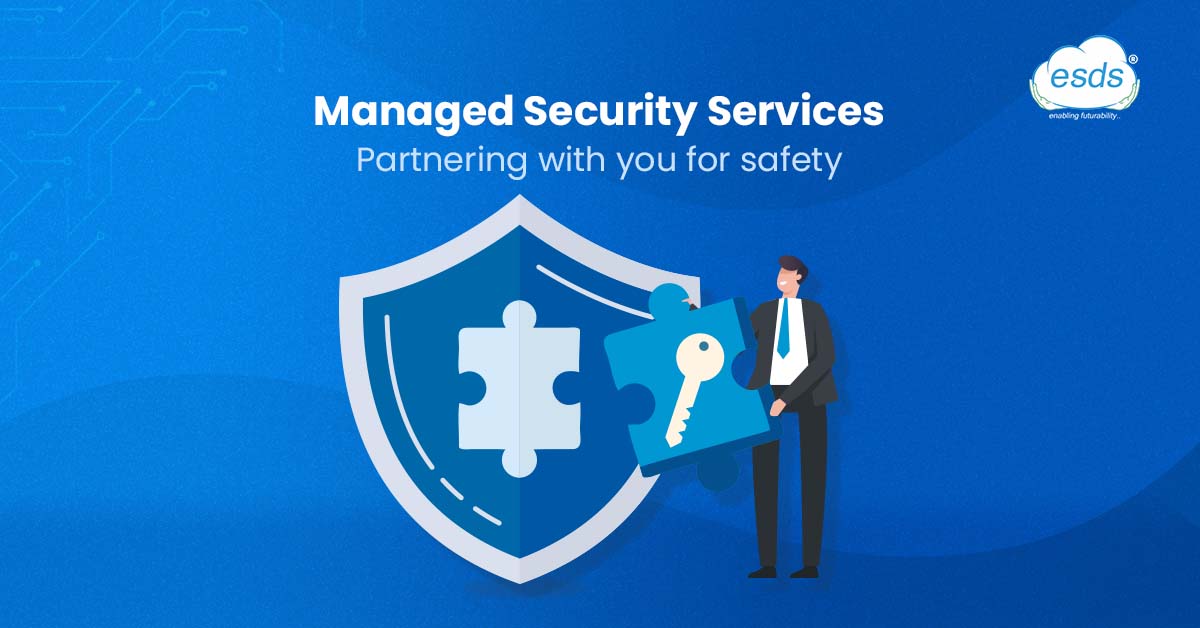 With their clients, managed security services providers (MSSPs) keep a lookout for any security problems. Why is working with an MSSP important? What makes an MSSP preferable to creating your own Security Operations Center (SOC)?
See the top 10 reasons below why you ought to think about working with an MSSP.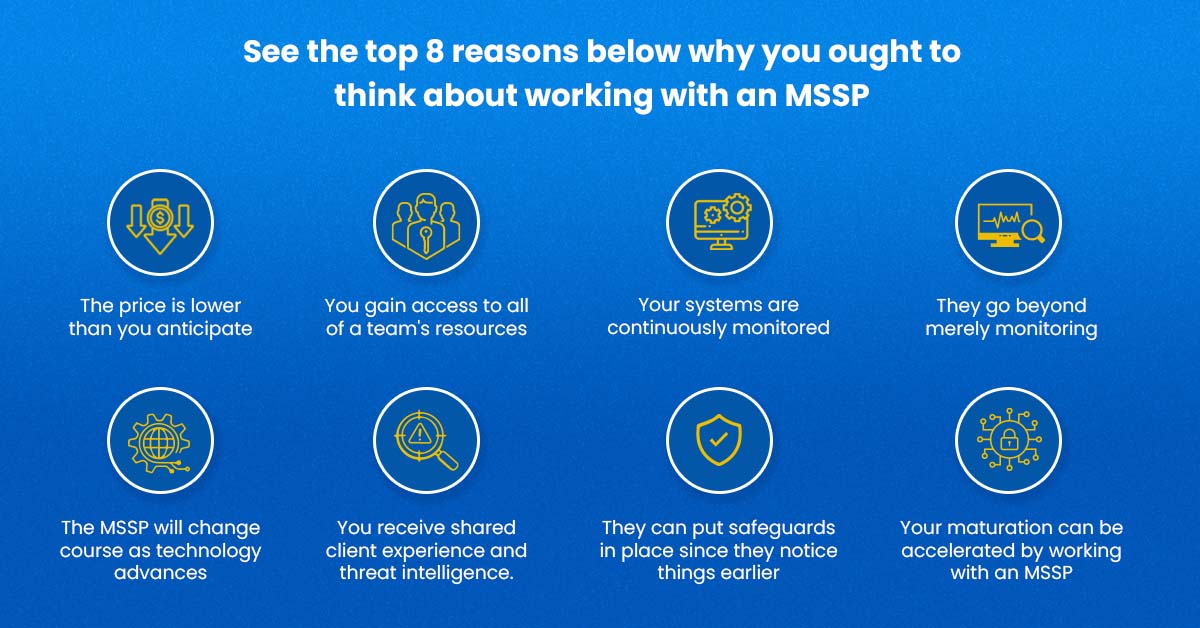 The price is lower than you anticipate
There is a widespread misconception that using an MSSP is expensive and exclusively for "big people." Many smaller businesses assume that an MSSP will be beyond their price range, especially if it is onshore and offers round-the-clock monitoring. However, MSSPs are able to spread the expense of resources over a lot of clients because they look after numerous clients. Additionally, the majority of MSSPs have either developed a solution using Open Source technologies to decrease the cost or have negotiated favorable pricing with their technology vendors based on volume license.
In the end, you should contact an MSSP to ask questions if you are thinking about one but are holding off because you are worried about the expense. It will probably turn out to be less expensive than you anticipated. Asking never causes any harm.
You gain access to all of a team's resources
The majority of MSSPs divide their SOC into three unique teams. Level 1 does initial triage and continuously monitors. When Level 1 needs assistance, Level 2 handles the escalation of the problem, and Level 3 handles advanced escalations, incident response, and threat hunting. Five Level 1s, one Level 2, and one Level 3 are required as a bare minimum to run a 24x7x365 SOC operation, not to include the nice-to-haves of a SOC Manager and Threat Intelligence.
An MSSP will have a team of at least seven professionals watching over your network. You benefit from the expertise and understanding of an entire staff that has undergone rigorous training and has amassed years of professional experience.
You receive shared client experience and threat intelligence.
An MSSP doesn't deal with a single customer exclusively. They collaborate with numerous people in numerous industries. All clients win from this since the MSSP detects threats against a variety of clients and uses the information to safeguard everyone. As an illustration, if a financial institution is attacked, the attack's specifics will be added to the MSSP's Threat Intelligence database, and the Tactics, Techniques, and Procedures (TTP) are monitored for everyone, regardless of the client's industry—retail, software development, mining, not-for-profit, or another.
Your systems are continuously monitored
As we all know, cybercriminals don't operate from Monday to Friday. As a result, a lot of threat actors target businesses after hours because they know no one is there, and it's probable that systems are not being watched. It is crucial that your systems are being watched over constantly as a result. The majority of MSSPs offer eyeballs onscreen around-the-clock and, more crucially, take action on threats that are recognized (and if you're shopping for an MSSP, you should ask this). Your MSSP can contact your internal staff after hours if necessary.
The MSSP will change course as technology advances
The pace of change in security technologies is remarkable. It seems like there is a new term (we're looking at you, XDR) or promising technology emerging every time we turn around. Even Security Information Event Management (SIEM) programs evolve, advance, and occasionally even regress.
You won't have to hunt up the underlying technology because your MSSP will have already determined the best solutions (again, worth asking if you're looking) for their customers. Additionally, as technology develops and evolves, your MSSP should keep up with the times and replace any technology that has ceased to be a leader. If you have purchased a piece of technology, you may not be as committed to altering it or may not want to expend the time, effort, and money required, which could put you at risk.
They go beyond merely monitoring
Finding the problems and informing you of them is fine, but you need a staff that can act quickly if it discovers a proven security event. On a Tuesday morning at two in the morning, it's unlikely that your crew is up and ready to act.
Your MSSP can (or should) be taking preemptive action in accordance with established rules because they are monitoring 24 hours a day, 7 days a week. This lessens the requirement for your staff to be awake at all hours of the night while still providing you with protection.
Usually, you receive more than an MSSP
Working with an MSSP that includes offensive and advisory teams also allows you to benefit from their expertise, further fortifying your defenses. Combining a "red team" and a "blue team" gives you the strongest defenses imaginable by giving you both the defender and attacker mentalities. Although you might have a security team on staff, they are often specialists in just one field.
They can put safeguards in place since they notice things earlier
Imagine seeing the threats and notifications for more than 50 businesses. An MSSP has exactly this kind of wealth. The MSSP has all of the TTP they have observed and builds specific detections based on what they see across all of their customers, whereas an internal SOC just sees the data on their networks. This universal understanding makes it more likely to spot a breach early on (and perhaps stop it).
Additionally, the Joint Cyber Security Centre (JCSC) and the Australian Cyber Security Centre (ACSC) provide notifications and detection guidelines for a limited number of Australian organizations. These are usually only disclosed to MSSPs and significant organizations. Therefore, you won't receive early detections if you do not fit into one of these. However, an MSSP will get these discoveries and incorporate them into the SIEM for every client.
Your maturation can be accelerated by working with an MSSP
MSSPs can observe what works and what doesn't in diverse situations and configurations because they serve a large number of customers. They can use this information to help all of their clients improve their level of cyber security maturity in terms of procedures, environmental setup, and controls.
You can obtain access to some of the most knowledgeable and experienced individuals in digital security by hiring an MSSP rather than attempting to establish your own SOC. These individuals will likely be monitoring your networks round-the-clock. Additionally, you receive the most recent technology, attacker and defender mindsets that strengthen the overall defense, threat intelligence you wouldn't typically have access to, lower insurance premiums from many insurance companies, and people who can use their experience to provide a system that works for your company. It's also probably less expensive than you think.
Conclusion
An MSSP like ESDS can provide your company with pertinent threat intelligence for enabling security technologies, monitoring, and reporting. Our security team has access to the knowledge they need from threat intelligence to proactively look for risks. The advantage of threat intelligence from an MSSP for small to large businesses is that it is based on a diverse range of scenarios across its entire client base and has been examined by knowledgeable security specialists who can determine how it may impact your business in the short term and long term. Maybe now you'll think about fully-managed security services and hand off your demanding security workload to an MSSP
Latest posts by Alston Dsouza
(see all)