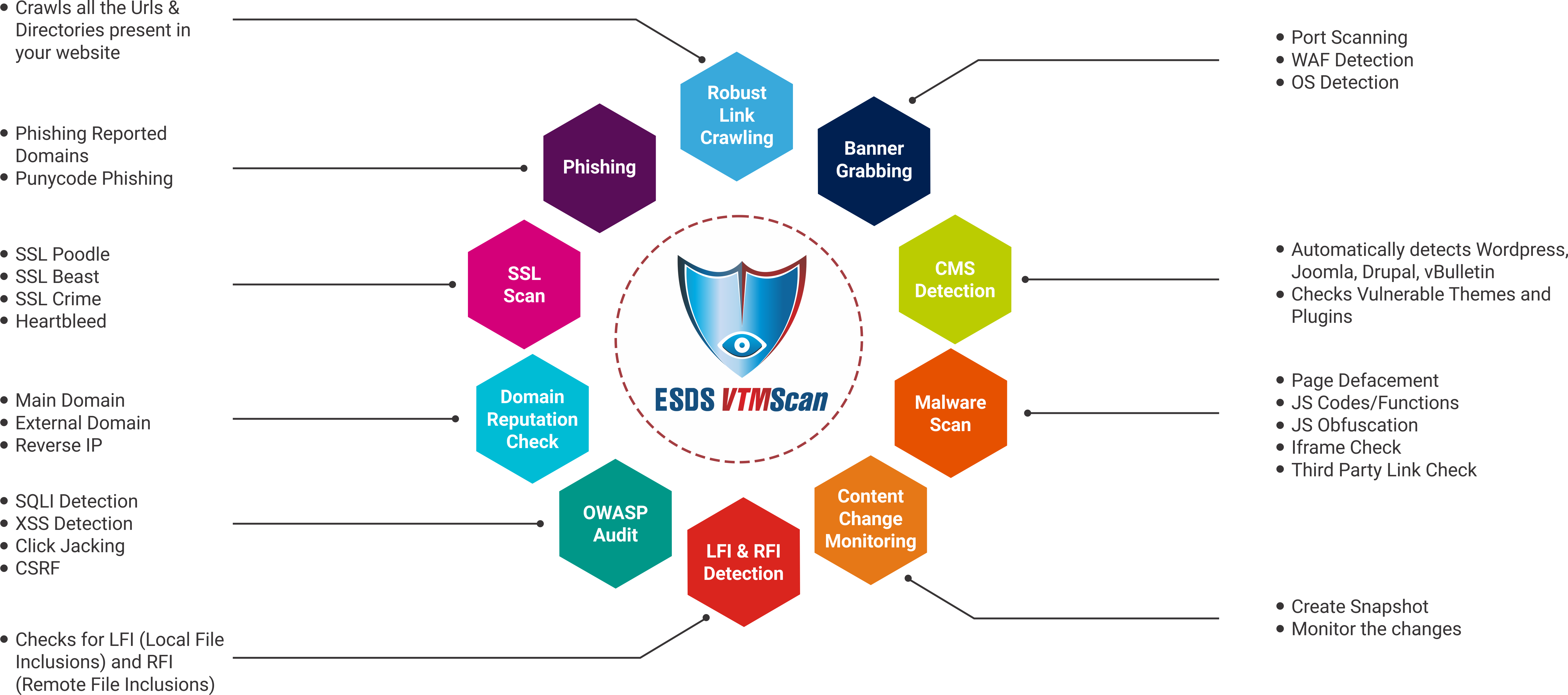 Features of ESDS VTMScan Scanner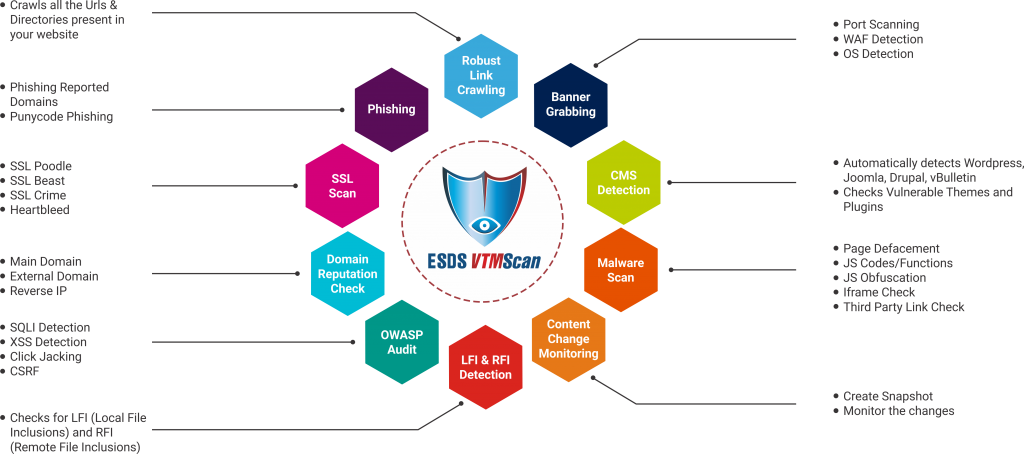 Website security is important regardless the size of business. Entrepreneurs think that their website does not have any important or valuable content for hackers to hack but that is not the truth. Hackers make use of automated bots to crawl in a website to steal data and sensitive information as they do not discriminate in the size of business or website.
Let's have a look at the risk factors if you do not keep your website secure from cybercriminals:
DDoS Attacks – Sends traffic to overwhelm the systems
Inside Attacks – A person from inside the organization misusing the information
Malware – Designed to harm a system
Passwords Attacks – Hacking passwords for important portals or profiles
Injection – Defacement of website
Spam – Emails and scams
Phishing – Extracting sensitive information through luring
Interception – Obtaining credit and debit card information
When you have a trustworthy website security scanner like ESDS VTMScan, you don't need to worry about the threats and vulnerabilities in your website. These are the features provided by ESDS VTMScan:
Domain reputation in Google, SURBL, Malware Patrol, Clean-Mx, Phishtank:

You can check if your domain is listed on various databases like Google, Malware Patrol, Clean-Mx and Phishtank. These databases stores and organizes IP addresses which involve malware, spamming and Phishing activities.

Mail server IP Check in 58 RBL repositories: RBL lists IP addresses whose owners refuse to stop the growth of spams. RBL lists various server IP addresses from multiple ISPs whose users are responsible for spams. RBL also lists those ISPs whose servers are hijacked for spam relay.
Scan SQL Injections for MySQL, MSSQL, PGSQL, Oracle databases

SQL (Structured Query Language) injections is a trick that exploits poorly filtered or not correctly escaped SQL queries which injects vulnerabilities and permits anyone to build a well-crafted URL to pull down names, credit card numbers and other sensitive information.

Scans Local file injections (LFI):

Local File Injections (LFI) is a process where a file or a script is injected on a server through a web browser which allows directory traversals characters to be injected if the page is not sanitized which also leads to information disclosure.

Scan Remote file inclusion (RFI):

Remote File Inclusion (RFI) is an attack which looks for vulnerabilities in a web application to include a remote file through a script on the web browser. The perpetrator wants to exploit the functions in an application to upload malware from a different domain.

Scan XSS – Cross Site Scripting:

Cross Site Scripting (XSS) refers to client side code injection attack wherein the attacker is able to execute malicious codes (also known as payloads) in a website or a web application. This is one of the most widespread web application vulnerability. ESDS VTMScan detects form on the Webpages and scan for GET and POST requests.

Scan Malware:

Website Defacement Check – Website Defacement is an attack on the website that changes the visual appearance of the website or the webpage. ESDS VTMScan scans JavaScript code for dangerous functions like eval, base64_decode, char etc, through a special algorithm developed to detect JavaScript complications. Malware monitoring focuses on detection of JavaScript, iFrame & Defaced Keywords.

Detect and Scan CMS

Very few scanners detect and scan CMS like WordPress, Joomla, Drupal and vBulletin. ESDS VTMScan scans themes, plug-ins and unprotected admin area.

Open Port Application Vulnerability detection:

An open port will leave your network exposed to malicious attacks by hackers which will lead to compromising your network to worms and Trojans. ESDS VTMScan detects and displays all the open ports across every asset in the network.

Directory Scanning:

The Directory Scanner allows you to scan a particular directory on the web server for files containing XML messages.

Detect open sensitive / admin area of the site:

Scan various sensitive areas in a website which are not authorized to every individual. e.g. Admin Login page

Scan for Directory Indexing:

When a specific web request is made on a website by a user, the web server searches the root directory for that particular request (page) and if it is not able to find the page the then, the server will issue a directory listing. This process discloses contents which are unintended for a user and eventually leads to further attacks in a system.

Scan Full Path disclosure in the pages:

Full Path Disclosure vulnerability enables the attacker to see the path of the webroot/file using the load_file query to view page source. This provides the attacker to access each and every file they wish to see.

Scan Password auto complete enabled fields:

Many a times users provide username and passwords on a login form of a website and the default behavior for browsers is to store these credentials in the browser itself. This makes it very easy for the hackers to steal the saved username and passwords.

Information disclosure:

This feature checks for email address and IP addresses in the page.

ViewState decoder:

It detects and tries to decode viewstates. ViewState Decoder debugs HTTP API to see what going in/out for your website or application.

Scan password submission method:

Password submission method scans for those passwords forms which are in plain text and can be easily captured by sniffer utilities.

Authenticated area scanning:

An authenticated area scan is a vulnerability test which determines how secure a network is from an inside point of view and scans restricted areas like admin panels.

Reports

Users are mainly provided with two types of reports viz. Scan report and Domain Performance Report. Scan report shows scan details of individual domains and the number of vulnerable links found. Domain Performance Report shows various performance metrics of individual domains. Users can get these reports on mail and can check detailed reports in the control panel.

Robust Link Crawler:

ESDS VTMScan is the key to efficient and comprehensive crawl which follows a path from various web pages, directory indexes, directory traversals, etc.

SSL Certificate checking:

Easily scan a HTTPS and verify the SSL certificate on your web server to check if it is correctly installed, valid and trusted.

Backdoor WebShell Locator (Client Side – Unique Feature):

Backdoor WebShell Locator scans for shells like php/cgi (perl)/asp/aspx for commonly injected locations with their usual file names.

WebShell Finder:

WebShell Finder allows you to scan each and every web page for a keyword of your choice so it can detect a webshell even if it is renamed.

Reverse IP domain check:

When you have a scanning domain hosted on a particular server, you are able to find all other domains on the same server for blacklist.

Deep Application Testing:

Our Deep Application Testing crawls your website for all the URL's which are scanned thoroughly to ensure your network and applications are secure.

OWASP Top 10:

Open Web Application Security Project (OWASP) is an online community in the field on web application security which releases a list of top 10 vulnerabilities every year. The last time they released the list was back in 2017. ESDS VTMScan detects each of those vulnerabilities and follows the rules laid out by OWASP.

Botnet Monitoring:

Botnet Monitoring deals with the detection of malicious code within JavaScript files and also scans undetectable Java Code.

Defaced Keyword Monitoring:

ESDS VTMScan proactively spots security issues on your website before an unauthorized hacking occurs. A defaced web page can cause severe damage to your business but early identification helps you secure it.

Content Change Monitoring:

Your entire website is scanned for any changes in the content where, ESDS VTMScan creates a snapshot of the website and provides reports. Every change is monitored throughout the website along with percentage of change with respective URLs.

Schedule based Scan:

Users are able to set scan schedules on daily, weekly and monthly basis according to their requirements.

SSL Check: In SSL Check, the following areas are checked:

In SSL check, ESDS VTMScan examines if the domain uses an invalid or expired certificate and checks if a NULL Cipher is used or less than 128 bits.

Managed by Security Experts:

ESDS VTMScan has been Developed & Managed by Security Experts that have the combined experience of over 5 years

3ESDS VTMScan Scanner Dashboard:

ESDS VTMScan provides an easy to use dashboard which lets you perform functions like domain additions, examining reports etc.

Manual Scan:

Our security experts manually scan your website to detect vulnerabilities which can take about 4-5 days depending on the size of your website.

WAF Detection:

ESDS VTMScan checks if you have installed Website Application Firewall (WAF) on your webserver.

CSRF Detection:

Cross Site Request Forgery (CSRF) is a vulnerability which comes with Cross Site Scripting (XSS) and allows the hacker to transmit malicious commands to other user machine while browsing same site.

ClickJack Protection Check:

ESDS VTMScan checks if a particular webpage is protected against Clickjacking. Clickjacking is an exploit in which malicious code is hidden beneath apparently legitimate buttons or other clickable content on a website.

Page Source Scan:

The main purpose of Page Source Scan is to inspect each webpage and find critical information or malwares. This scan also examines for shell files and incomplete password fields in case there is a chance for information leakage and disclosure.

OS Detection:

ESDS VTMScan lists down all the vulnerabilities present in a particular version of operating system and also detects the operating system and the versions installed on the webserver.

DNS Misconfiguration:

Misconfigured DNS may lead to critical information disclosure like lists of subdomain and other important IP Address thus, all the DNS setting are checked to see if they are properly configure.
Making use of a website security scanner like ESDS VTMScan will take care of all the potential threat your website faces. There are about 100 vulnerabitlies which ESDS VTMScan detects.

Latest posts by Shubham Kale
(see all)