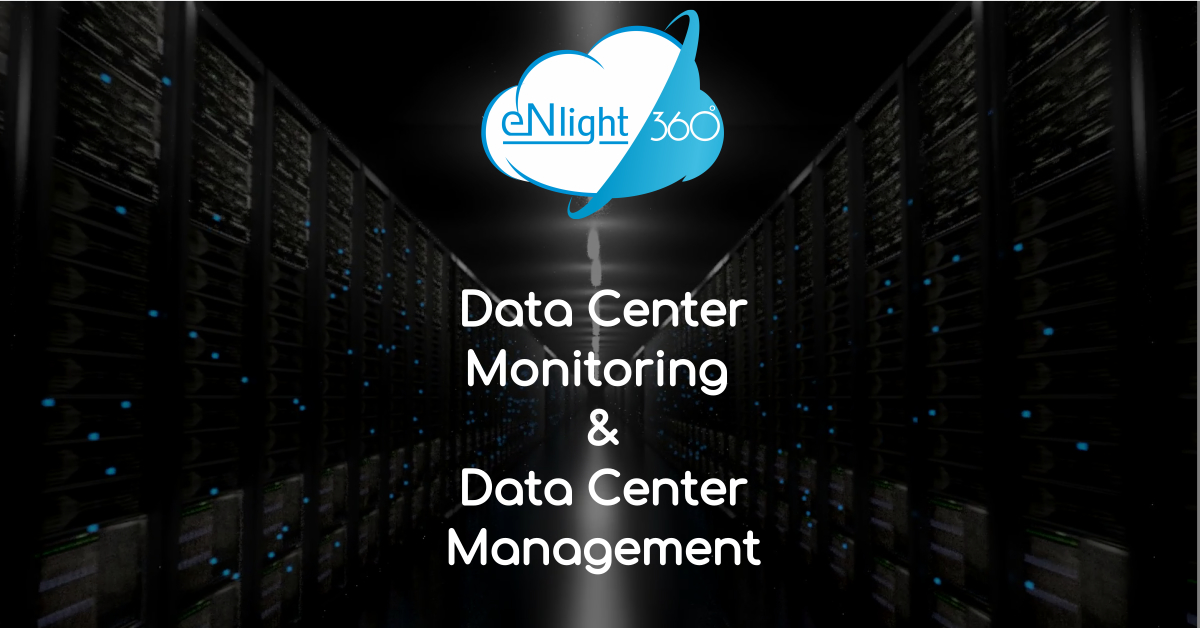 How eNlight 360 assists in Complete Data Center Monitoring and Data Center Management (DCM)
Data Center Monitoring and Data Center Management
Since the introduction of cloud computing in the business world, there have been improvements in business processes and overall computing management. In simpler terms, cloud computing means accessing data and programs over the Internet instead of your computer's hard drive. Cloud technology is related to multiple services such as servers, computer networks, application, and services etc. This technology is also responsible for organizations data by storing and protecting it instead of your organization maintaining its or data centers. There are cloud service providers who will manage your data with remote facilities and will offer various other benefits which will save your cost on IT infrastructure.
Various organizations face issues with orchestration and automation and with service enablement as a challenge, there is a lack of standardization within the infrastructure. Organizations that have their own data centers and IT heads are taking a more synchronized approach and utilizing Data Center Infrastructure Management (DCIM) solutions which contain DCM (Data Center Management) application. This application helps system and network administrators to manage a data center's IT infrastructure to achieve higher application availability and performance delivery. One of the prime differences between how these data centers performed five years ago and how they operate today is because of how they are built and managed these days. A data center IT infrastructure is
deployed, monitored and controlled by DCM. DCM consists of various functions like adding devices with an automated method of discovery, managing IT assets like hardware and software, monitoring all resources of the devices like RAM, CPU, disk, capacity management, generating various alerts based on thresholds, helping to troubleshoot the system, network, database, and even application.
As management of resources is essential on the cloud to get high performance and less downtime, eNlight 360 makes itself a unique offering in the market for data center managers which can help them minimize issues related to collecting information which is required for efficient management of their IT infrastructure. eNlight 360 comes with full-blown hybrid cloud orchestration layer with complete Data Center Infrastructure Management (DCIM) which is a Next Generation Hybrid Cloud orchestration software. It can be set up in organizations premises giving you the security of Private Cloud and scalability of Public Cloud. eNlight 360 is well versed with DC monitoring which is full cloud monitoring platform and shows dashboard as per user profile, hardware management, rack view, net flow and various other types of monitoring is possible.
Listed below are some of the best features of eNlight 360:
Real-time infrastructure asset visibility can be attained with asset/Inventory management which allows a user to track multiple critical assets of your DC
Integrated Network Monitoring, Power monitoring & Environmental monitoring provided eNlight 360 gives the total benefit of centralized tracking.

If you have set correct monitoring parameters for the devices, then a user can identify the weaknesses in the setup which results in system failure.

IT professionals can focus on lifecycle management of specific IT assets like servers, switches, and storage for long periods and can manage operational change which will be the supreme success for the business.

It offers auto scalability of virtualization with end-to-end Provisioning and Monitoring of resources through a single UI for high degree performance.

With eNlight solutions the client has benefits of user management, job (task) and job scheduling, VM lifecycle management, and infrastructure consolidation.

eNlight 360 also offers inventory management with auto-discovery feature which eases the management of data for physical devices and virtual appliances allowing you to discover hosts even if they are on remote networks. When an organization opts for cloud services, they need reports and logs so that analysts can prioritize various events according to their needs. eNlight 360 provides system update logs, hardware reports, software reports, schedule reports, resource usage, bandwidth usage and uptime report for real-time insights on the dashboard to analyse and manage records for further planning.
Thus eNlight 360 solutions are better known for its unified cloud management system which allows complete control of your resources with efficient infrastructure for best performance.

Latest posts by Shubham Kale
(see all)
benefits of eNlight
,
best data center in india
,
Cloud Computing
,
Cloud of India
,
Data Center
,
Data Center Designs
,
Data Center Facilities
,
Data Center FAQ
,
data center future
,
data center maintenance
,
Data Center Management
,
data center management challenges
,
data center management solution
,
data center monitoring
,
DCM
,
eNlight 360
,
enlight cloud
,
enlight360