Cloud Computing And The Waves Of Innovation
These last weeks have been very busy for me and many of you, for sure.
Among the challenges of day-to-day production increases on weekends, consolidation of infrastructure, project meetings, dealing with backlogs, doing research to collect new features, etc..
In addition, a wave of innovations has been submitted, flooding our minds with ideas and expectations.
But the fact is that from time to time we live in these waves of innovation or small " revolutions "that challenge our reality. Here are some examples:
Emergence of Minicomputers
UNIX operating system and "Open System"
Operating System DOS, Windows and the emergence of "Personal Computing"
Emergence of Transaction Monitors (Transaction Processing)
Emergence of a Relational Database
Emergence of Computing Client / Server
Emergence of Laptops
Birth of Mobile Devices, Palm, PDA's
Emergence of Mobile Phones
Web Applications and the Internet itself
And most recently … Utility Computing and Cloud Computing services. Of course, some readers may say they do not remember all those battles between " real world "and" future vision ", but believe me, there have been many times over these past 20/30 years. Other minor battles also took place, the above list is only partial.
And like every wave of innovation, a life cycle is covered, which passes through moments of novelty, technological breakthrough, peak expectancy (the "hipe"), disillusionment, and finally recovering, the productivity gained from maturity. This is quite the model used in a variety of technology analysis, with the following chart:


In this context, " Cloud Computing " or " Cloud Hosting" is the wave of momentum, with its benefits, risks and impact to applications and business models.
I often say that " a window of opportunity opens up for companies, software vendors and users", In the same vein, I would add one more concept: what we see in the coming months is to increase the discussion about the consumption of services.
We will refer to "CLOUD" in the same way we refer to as "NET".
This impact should create some new roles in the market:
We will have cloud providers, which must provide the hardware resources and infrastructure in the form of data centers and software functionality to support the cloud. Microsoft is an example with its network of data center and resources for your platform Windows Azure.
There will be companies that will be build on the cloud services (called "cloud brokers"), combining features of different providers or resources to a platform chosen for the construction of service offerings with high scalability, availability and resilience for its customers . Microsoft is again an example for some service offerings, such as BPOS – Business Productivity Online Suite , but other companies are already using the platform to build Azure offers SAAS – Software as a Services , for example, offering the benefits of elastic computing to its customers.
Finally, we have the corporate customers increasingly consuming services in an intense and transparent method. These consumers will combine services from different brokers with cloud services and applications on-premise (local), taking advantage of investments in its own infrastructure.
This example of combining already appears on several projects around the world that Microsoft has been supporting local infrastructure by integrating with the cloud.
One of the interesting points of the project is its integration of a local infrastructure of third party services and services offered on Windows Azure. A drawing on the general architecture of the project is given below, see: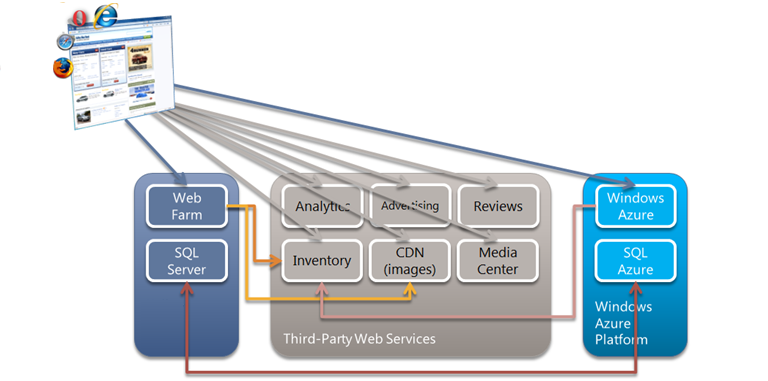 In short, On-Premise Outsourced Services + + Cloud = Hybrid IT
What we see in the above equation is not only a potential for innovation and agility to build new products and businesses in business. It is also a challenge for integration between environment, development of coordination, monitoring and integrated ALM distributed. On one hand we are in the "hipe", on the other we have begun a good mapping of current challenges to "cloud services" model.
There are already several solutions for each of these challenges, such as federated security ( CBA – Claim-based authentication ), data synchronization between local and cloud ( SSIS – SQL Server Integration Services ), interfaces and service locations in the cloud ( WS-F PRP – WS-Federation Passive Requestor Profile ), container and local services in the cloud ( Microsoft Windows Azure platform AppFabric ), bus bar services, repositories, integrated monitoring cockpits ( Management API ), etc..
Maybe faster than we imagine, we will face a new reality in our day-to-day productivity and the plateau will be present very soon on the cloud. And sure, new waves will come … 🙂