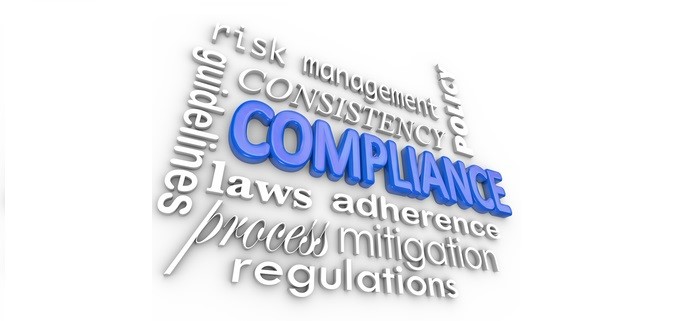 Adherence to Standards
Policies, Regulations, Standards, Transparency & Compliance — These are necessary evils that help you run your business smoothly. You can even call Compliance as a Silver Lining that helps businesses flourish.
Compliance can be defined as a tool that ensures that organizations are abiding by both industry regulations and government legislations. In IT sector, compliance usually revolves around Data Security. Whenever there is a new compliance requirement, an update or any system upgradation, all eyes in the organization turn towards the Compliance Manager. Some look towards compliance as a pain, some think it's a waste but for some it's all about ethics.
Compliance becomes more complex as your organization grows. It has implications in all the verticals of your business including employees, hiring, terminating, harassment, safety, network security and data security amongst others. Everything from the way you make and sell your products in the market to keeping customers happy, it all falls under one big word — COMPLIANCE.
As we all know Compliance will never go away and is an unavoidable part of all business processes. So let us understand its benefits:
Lowers the risk of legal issues
Compliance will help your company stay away from legal risk. The most obvious consequence of compliance is that it decreases your risk of fines and penalties. Even if you are able to pay the fines, being non-compliant will drop your sales dramatically. Being compliant does not guarantee your organization won't face any breaches, however, it is a step towards taking the security regulations seriously.
If you are doing regular internal audits within the team, then there are less chances of breach in any security protocol. Strong compliance can bring your internal teams together in order to focus on a common Goal-Green Audit.
Discover better data for better decision
Compliance has stringent rules on harmonization of systems and data including nomenclature and definitions. They also focus on complete timely documentation of all the activities. A thumb rule of compliance is 'Do what you write, write what you do'.
Get engaged with employees
Many employees dedicate their lives to organizations where they feel free. Also, people want to stay with organizations that have strong values. Thus, a lot of compliance issues deal with protecting employees.
Let your employees know the importance of Data Security. They are a part of this big data. Teach them how to secure company's data by conducting trainings on Data Security Standards.
Transparency is good for business
"Transparency goes beyond risk management" as quoted by Vicky Kubitscheck, chief risk officer and compliance director at Police Mutual Group.
It is necessary to have transparency in business which reflects that the business is run in an ethically and in a sound financial manner. Everyone in the organization should have an idea of how the business is being run.
Every customer is worried about his data and its privacy. Customers know that their data might be at risk. It is your duty to make them understand how secure their data is by being Compliant.
If your organization helps the customer understand your compliance, it will build his trust for your organization, which will only increase your Value-Business growth.
The only way to avoid risk in your business is to conduct regular internal audit. An internal compliance team can help identify the gaps and the management can work on how to mitigate the gaps.
As an organization, being compliant with security regulations can reasonably increase its revenue.

Latest posts by Neha Abbad
(see all)