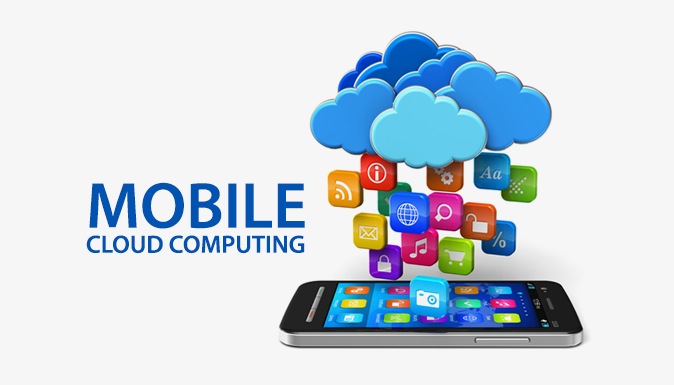 Mobile Cloud Computing : The Upcoming Trend !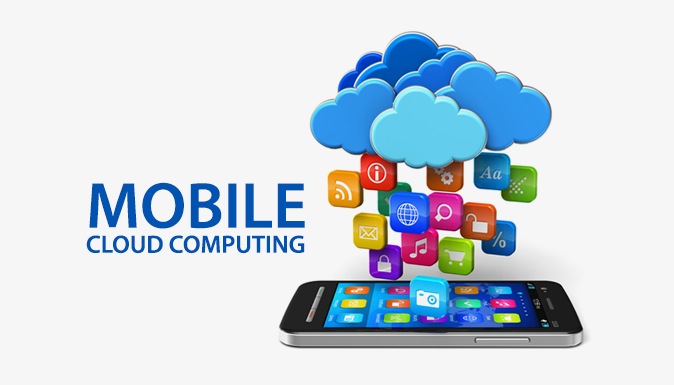 Mobile Cloud Computing
Cloud computing and mobile technologies are the two most talked about trends in this century. Mobile Cloud Computing is an infrastructure where both the data storage and processing happens outside the mobile device. With the help of mobile Cloud Applications computing power and data storage is moved away from the mobile devices into centralized computing platforms located in clouds. It is like two or more innovations blend together to produce something more amazing.
Why Mobile Cloud Computing (MCC) is important:
Mobile devices face many resource challenges such as battery problem, storage and bandwidth. Mobile Cloud Computing offers advantages to users by allowing them to utilize infrastructure, platforms and software by cloud providers at low cost. Mobile cloud computing provides mobile users with data storage and processing services in the cloud, eliminating the need to have a powerful device configuration like CPU speed, memory capacity,  as all resource-intensive computing can be performed within the cloud.
Mobile cloud computing has many advantages:
With Mobile cloud computing sharing information and applications is easy without the need of complex and costly hardware and software because the business computations are conducted on the cloud.
Mobile phones features and functionality are now enhanced through new cloud applications.
Since the access point to mobile cloud computing is through a browser and not a mobile operating system there is ease of access.
To build mobile cloud applications is cheaper for cloud computing vendors because of economies of scale, i.e access to all smartphone devices, one application can be shared and accessed by many smartphone users.
Broader reach, since mobile cloud applications can be accessed through a browser, the cloud computing applications can be reached by all mobile users anywhere, anytime. So it has broader reach as long as the mobile has access to the internet.
Cloud application will account for 90 % of mobile data traffic by 2019: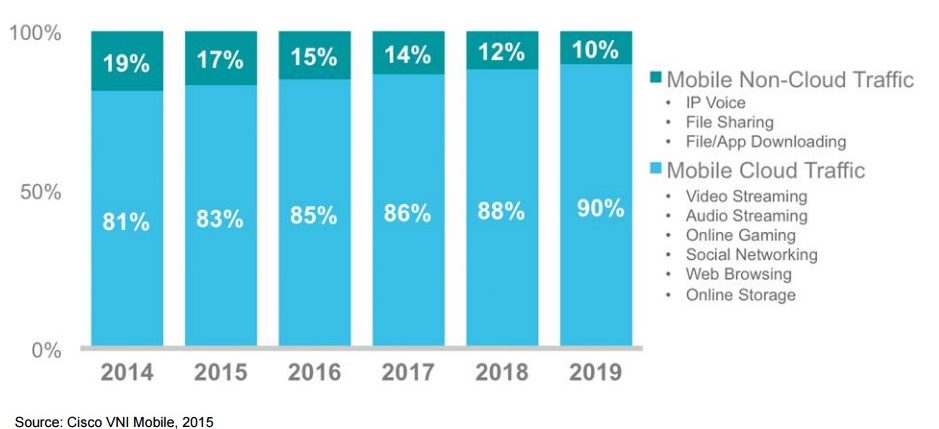 Trends that impact future of cloud computing:
Mobile cloud is one of the hottest trends in cloud computing that is expected to play an important role in the future.
Mobile is used to access spreadsheets, presentations and data processing.
Phone network providers are putting lot of efforts on developing mobile cloud as value adds option.
By moving app from the PC to tablets enterprises are putting more efforts on mobile cloud services. In this way tablets are projected to supplement the PCs.
Consumers are now buying more from mobile commerce and also buying from their mobile wallet. This is enabled by mobile cloud infrastructure.
Though enterprises are putting their applications in mobile their robustness is not increased. People have high probability of dropping mobile than PC. Due to this to store data on cloud than on mobile has become necessary.
The social medias are becoming convenient and popular among consumers and it has become a place for a business using mobile devices .
The flexibility demanded by the mobile workforce is one of the key reasons cloud computing is on the rise. The anytime, anywhere access that cloud-based applications provide is ideal for workers who are always on the go. Directly or indirectly most of the businesses are and will use SaaS applications for their business via mobile. So Mobile cloud computing is going to be an integrated part of the business economy.