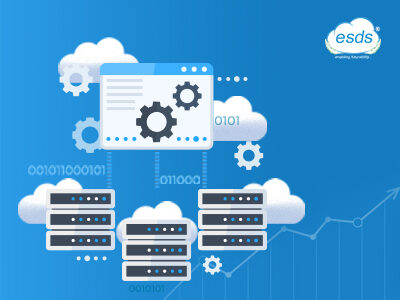 How Can Managed Colocation Help Your Scaling Business?
For your growing business, you certainly need enough space to accommodate the ever-increasing IT infrastructure. Again, when it comes to growing infrastructure, it includes considerable space, cost, and an IT team to manage the IT infrastructure.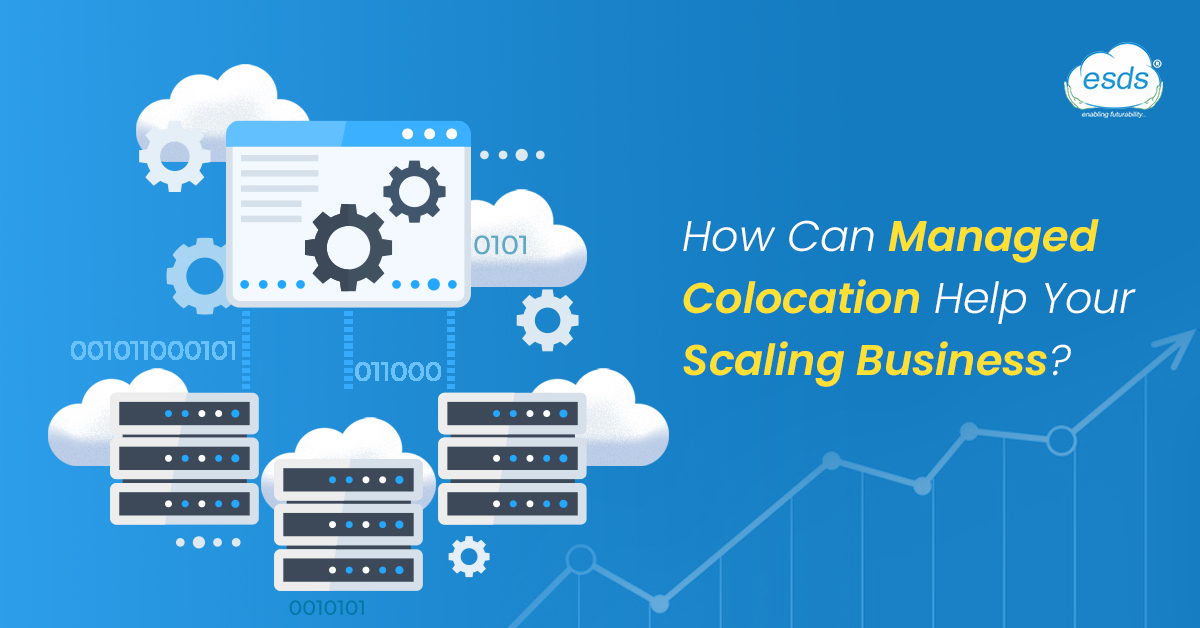 Your expanding business needs may not be cost-effective, but it certainly has solutions that would accommodate your scaling business requirements.
It is essential that your business infrastructure scales and performs at the right time when needed. Also, you need to know your long-term business needs and their impact on the overall business workflow.
There are several alternatives accessible for IT infrastructure. However, if you have a clear set of business objectives, are aware of the existing state of your organization's IT infrastructure, and are ready to make a change to maximize deployment in the long run, managed colocation is just what you need. Nevertheless, what exactly is managed colocation, and why should it be preferred over on-premises or cloud-based solutions?
Colocation
Colocation is the provision in which a service provider offers space on its premises for an organization's equipment and IT infrastructure.
It is an excellent alternative for companies that want to maintain control over their infrastructure but lack the physical room to house their equipment.
Managed Colocation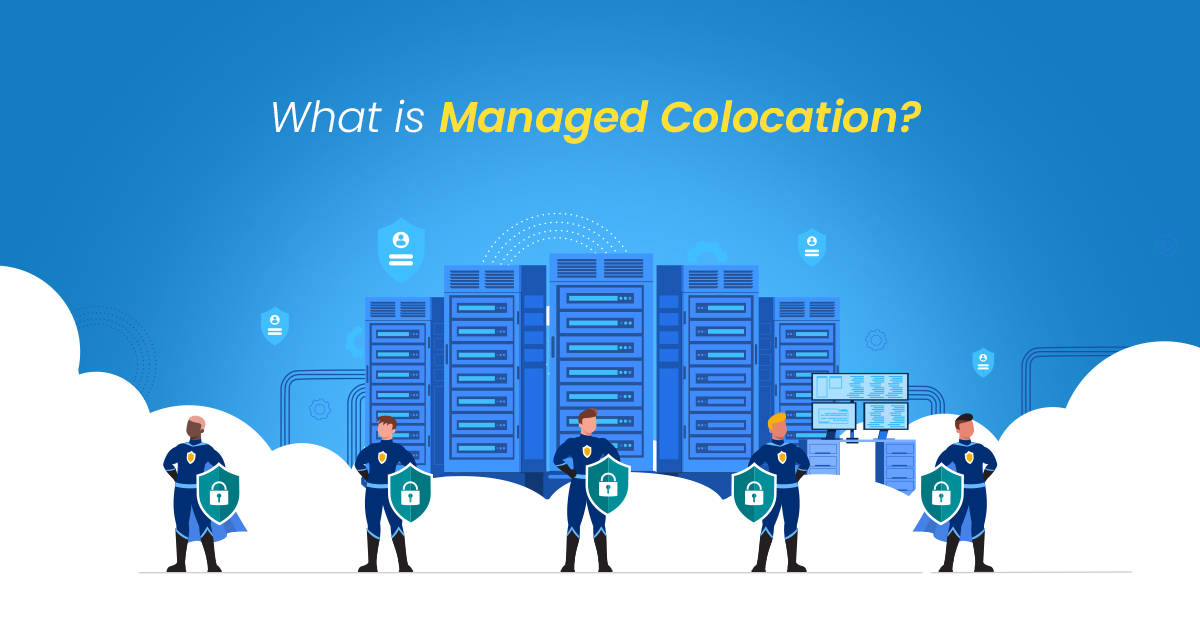 Managed colocation takes the colocation process a step further by managing the organization's IT infrastructure and physically hosting it in the providers' space.
Managed colocation is ideal for businesses willing to control their infrastructure but with a certain level of server management expertise.
In addition, smaller businesses do not have to spend on IT infra, equipment, and infra management cost, thus saving costs regarding physical space and the need to recruit expensive IT expertise.
Managed Colocation Services Offered by Service Provider?
A managed colocation provider like ESDS manages the server hardware and the operating system, applications, and databases, depending on the service level agreement (SLA). In addition, other managed services, such as security, backup, and storage, can be incorporated as part of the managed colocation solution.
Managed colocation services offering system administration, physical hardware help, proactive response monitoring, server backups, and network equipment management. Consider it 24/7 IT support at scale and distance. You profit by making the most of your existing hardware investments, supplementing them, and remaining on a CAPEX model while receiving full support from 24/7 skilled IT teams in excellent data centers.
You don't just need servers, storage, a data center, and network access to keep your data online; you also need the people and knowledge to install, administer, and support those environments. Unfortunately, you may be devoting numerous hours to those duties while losing focus on your core business. Ultimately, managed colocation is the solution to all these issues.
Benefits of Managed Colocation
Your company's data is protected against disasters such as fire and flooding in a data center owned by a service provider. Essentially, your provider is responsible for all aspects of your network.
Security measures that a data center can implement to protect against external physical attacks include 24/7 video surveillance, alarm monitoring, and authorized access.
Your service provider takes the required steps to ensure that your company's data is always accessible. For example, backup services such as alternate power suppliers, batteries, or generators are available in the event of a power outage. In addition, most managed colocation providers like ESDS offer excellent network connectivity backed up by an SLA.
Companies that own infrastructure and systems but lack technical support to administer them would benefit significantly from the management knowledge and maintenance support that a managed colocation provider offer. ESDS provides easy integration with their cloud platform for hybrid customer experience/requirements.
Managed colocation is ideal for businesses that require access to multiple geolocations. Racks can be positioned anywhere in the world, which is very useful for enterprises that need to know where their data is physically located, as well as for meeting data protection requirements in certain countries.
To help you manage your infrastructure, ESDS offers Managed Colocation services, including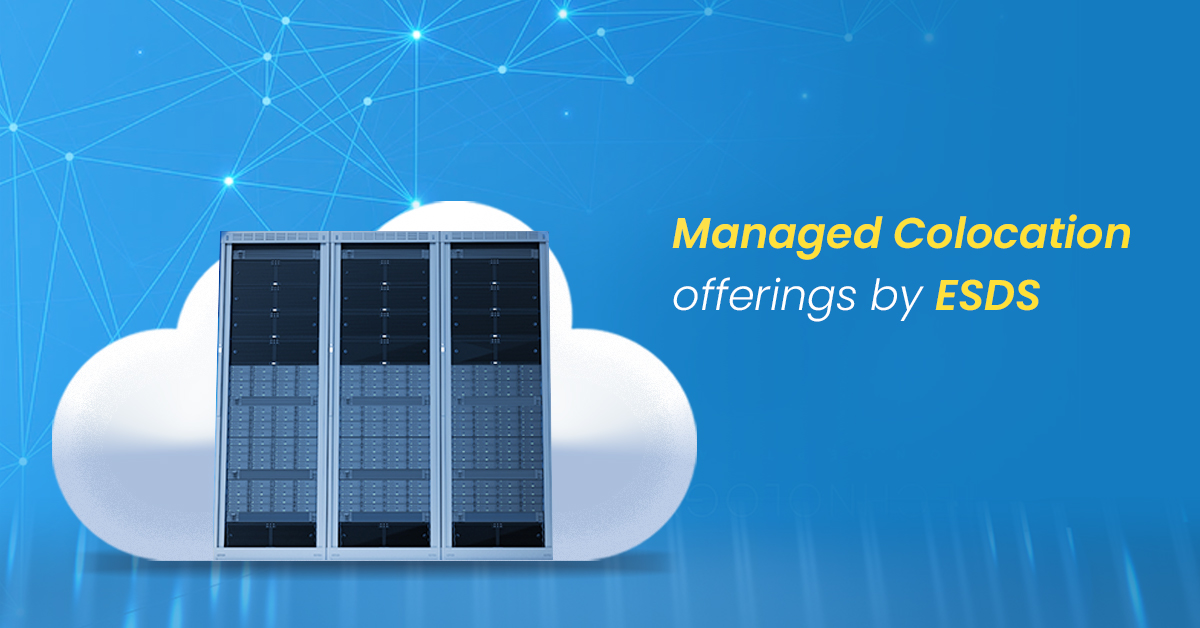 Infrastructure
Initial Infra setup
Tier 3 Indian Data Centers with N+1 Redundancy
Storage facility with Quarter, Half, or Full Racks
Easily Upgradeable Rack Space up to 42U
Substation with High Power
Direct expansion (DX) based Precision Air Conditioners (PAC) with PAC unit pumps
FM200 fire suppression extinguishment system for Fire Safety
Guest Operating System
SAN/NFS Storage
Network & Firewall
Local/Remote-D2D/D2T Backups
Built-in Services
99.995% Uptime Guarantee
Zero-cost Setups and Reboots
Proactive Monitoring and Support
High Data transfer
Dedicated IPs
Server Hardening
24x7x365 Exuberant Support
Exclusive Services – On-Demand
Remote Controls of OS and hardware through KVM-IP or terminal access
Prompt Back-Ups
Dedicated Private Network
DR- Services
DRP Planning/Assistance
Complete DR Drills with Reports
Switch Back Support
Application/Database Level Replication
Shared P2P Link between ESDS DCs
RTO/RPO Monitoring/Commitment
DNS Management with gDNS
Dedicated DRP Project Manager
Wide Range of DRM Tool Options/Support
APP-DB Administration
Application/Database Installation
SAP Basis Support Services
Database Administration – HANA, MSSQL, MySQL, Oracle, etc.
SOC Services
Final Word
Managed colocation is a highly realistic and practical IT outsourcing solution that gives access to connectivity and expands bandwidth as your organization requires. Remember that whichever path you choose for your company's IT infrastructure and systems, it should always be based on an honest evaluation of what your company is, what it does, what it can handle, and where it eventually wants to go.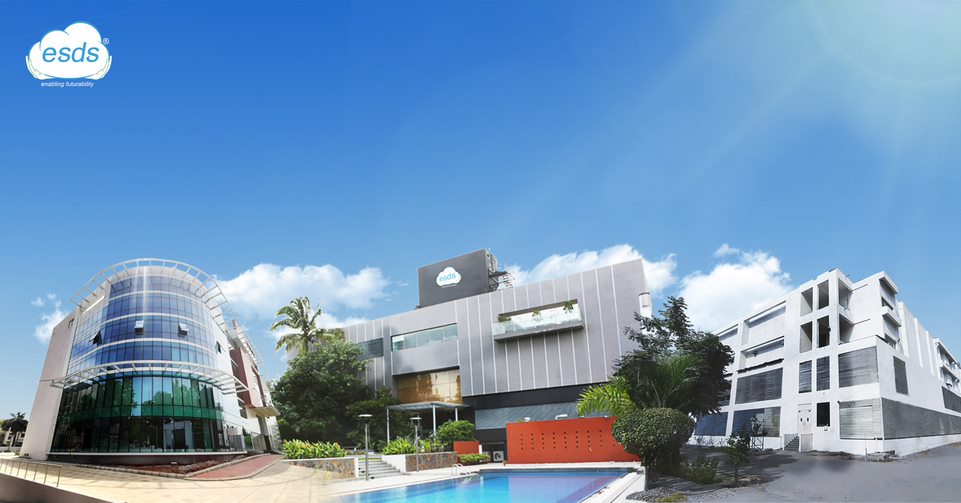 Latest posts by Prajakta Marathe
(see all)