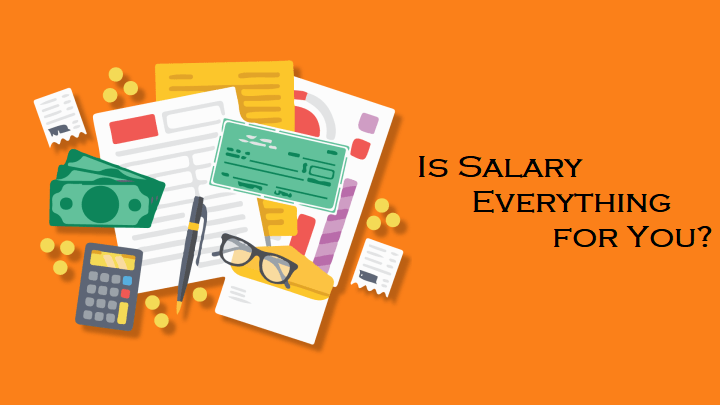 Is Salary Everything for You?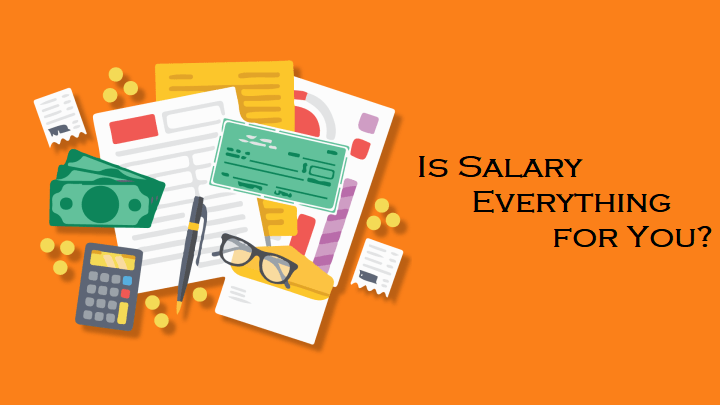 Employed?
Experienced?
Fresher?
Job Role?
Salary Expectations?
Benefits?
Do you agree with these questions?
You are offered the job and you have been given the best salary package as per the market. You join your new company and give your best to make sales, meet targets and deadlines. But suddenly it all starts revolving and you stop and think about the amount of energy and work you put into your job. For some people it is easy to handle work pressure but for some, it can cost them their peace. You perform well and always keep on working to progress to the next level, but you ALWAYS WORK. When you can't balance your work and personal life then your best salary package doesn't make sense anymore. What about your happiness? Where is your life? Even Jack gets bored in reference to the famous idiom, 'all work and no play makes Jack a dull boy'.
Now let's go back, and think of an organization that gives you the expected salary along with work satisfaction and some employee engagement activities. Sounds fascinating, doesn't it?
Every person has different reasons for working. Something achieved in the job impacts morale, employee motivation and quality of life. As an organization to be successful it has to focus on how to please the employees. It is not the organization that brings in the business, but the employees who bring the business and it is up to the respective managers to make sure they give their team the best task according to their abilities.
To put it in simple terms, I will break down this blog into three different sections:
Employee Satisfaction

The most essential question is how satisfied are your employees with their jobs? According to a research carried out by Human Resource report, it is said that employee satisfaction is a factor for employee motivation and employee goal achievement.

Factors contributing to employee satisfaction include, treating every employee with equal respect, arranging employee recognition programmes at regular intervals, empowering employees and positive management within a success framework of goals, measurements, and expectations.

A critical factor in employee satisfaction is that satisfied employees must do their job and handover the results the employer needs. If they don't, all that the employer has ever done to provide an environment that satisfying employees is for naught.

Employee satisfaction is a shared responsibility between an organization and its employees which is carried out efficiently in ESDS.

Employee Engagement

I like to define employee engagement as proactively and passionately adding value, whilst being correspondingly aligned with the company's mission and operational goals. This can be hard to quantify, but an engaged employee wears it on their face and demonstrates it in their work attitude.

Employee engagement is based on trust, integrity, two-way commitment and communication between an organization and its members. It is an approach that increases the chances of business success, individual performances and productivity and well-being within the organization. Managers and leaders should be aware about the people under them like; who they are and what they do. How leaders manage their employees can substantially affect engagement levels in the workplace, which in turn influences the company's bottom line.

Here are the strategies that ESDS use to build their walls for engaging employees:

More employee feedback more often

Workforce engagement goes up drastically when employees receive constructive feedbacks about their weaknesses and even more when they are told about their strengths. Data is always nice to have, but the feedback connection is also intuitive.

Select the right managers

The best managers understand that their success and the organization success rely on employees' achievements. But not everyone can be a great manager. Great managers care about their people's success. Great managers empower their employees, recognize and value their contributions and actively seek their ideas and opinions.. Businesses which effectively select managers for unique positions boost the odds for engaging their employees.

Define engagement goals in realistic, everyday terms

In order to have practical employee engagement, leaders must make these goals meaningful in employee's day-to-day experience Describing what success looks like by using powerful descriptions and emotive language helps give meaning to goals and builds commitment within a team.

Work/Life balance relates Work/Life Blend

Based on business requirement, the best thing about ESDS is embracing flexibility in workplace. For many job-functions there is no longer any good reason to work between the hours of 9am and 5pm. (I am writing this from my Dinner table at 2300 Hours). I hope more companies will continue on this path as long as the numbers prove it's an employee engagement strategy that's working.

Goodies during Learning and Development Hour

We do have our in-house L&D team which tries to keep employees stress free by arranging some ice-breaker sessions in between work. On weekends, we play sports and are engaged in other recreational activities. Employees get a chance to participate in games and win some goodies/prizes for themselves. Rewards and recognitions are given. ESDS even thanks its employees for giving their best and boosting the business.

Things employee expects from an organization

To create positive employee work motivation, treat employees as if they matter—because your employees matter. Other than money, employee seeks for:

A Career Path

To instill a sense of purpose in your employees, be sure to lay out a clearly-defined career path for them on a regular basis. The goals defined in the career path needs to be very measurable, obtainable goals.

Responsibility and Autonomy

Sometimes the hardest part of being a manager is delegating, but employees crave your trust, and with that trust comes responsibility. Giving your employees freedom over how they work can actually make them more productive. Unless you're managing an assembly line, give your employees the freedom to work in a way that works for them.

Flexible scheduling

Employee schedules doesn't have to be stressful, as the most efficient way to make the shifts possible and easy for every employee is to mark their hours, request time off and swap shifts with other co-workers.

Opportunities for Innovation

People need to be given a chance to bring about something new and exciting. Just asking people for ideas doesn't mean innovation. It's a culmination of creativity and leadership. Though you might not be able to give your employees much time on the clock to work on side projects, you can always foster innovation through employee brainstorming sessions that allow the staff to work with new people and generate fresh ideas.

Making your Culture Stand Out

No one wants to work somewhere they think is an unhappy and unproductive workplace. Your culture can be your selling point to job seekers if you put in the effort to make it a great place to work. Your culture is more than just the physical space of your business; it's your willingness to provide flexibility, your investment in the growth of your employees and your recognition of employees. ESDS is such a place where all these points come true and that is the reason it's a Great Place to Work For recognized organization.

If employees truly are the company's best asset, then leaders and managers should make caring for them a priority.

Latest posts by Neha Abbad
(see all)