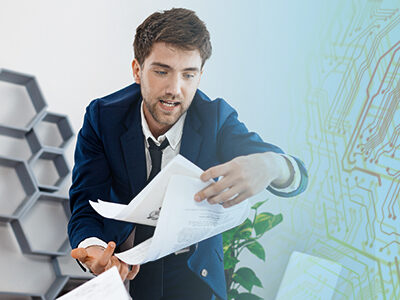 Drive the Digital Transformation Journey Embracing the Paperless Revolution with ESDS iPAS
Over the years with the birth of digital technologies, India has become one of the fastest-growing markets for digital consumers. Digital technology is radically changing every sector of the Indian economy with enhancements in digital capabilities and connectivity becoming omnipresent. Digitally empowering Indian society, the government of India is embracing technologies like cloud hosting, Artificial Intelligence, IoT, etc. with a vision to make India a digitally advanced country. With a vision to support the Digital India mission, ESDS – The Cloud Hosting Company of India developed the iPAS – Integrated Planning Automation System. iPAS has taken the District Planning committees of Maharashtra on a Digital Transformation Journey, kick-starting "Go Paperless Revolution". Implemented across Thirty-Six districts of Maharashtra, iPAS has automated management of letters, proposals, works, funds, and efficient execution of DPC plans, and schemes.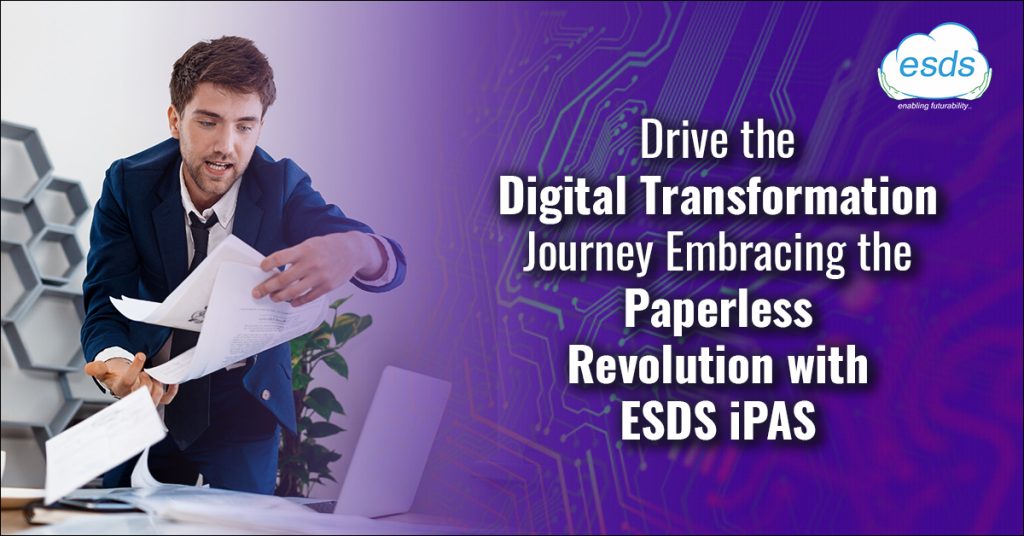 What is iPAS?
iPAS- Integrated Planning Automation System is designed by ESDS to take the DPCs on a paperless journey automating the planning processes. The system serves all government guidelines to be accessible at one location. iPas is a flexible software that automates the document journey, transforms projects serving proactive governance to DPCs. iPAS ensures transparency to DPCs offering a 360° view of work, schemes, and projects.
Features of iPAS
Paperless Workplace:
Reducing the carbon footprint, iPAS drives the Paperless journey for DPCs. With zero percent paperwork, iPAS leverages digital Transformation to store, archive, and retrieve all files in digital formats.
Transparency of Work:
iPAS offers a 360° view of work, schemes and projects ensuring transparency of work to DPCs. The work details are stored with timestamp and signatures ensuring unique, robust, and constant information across the system.
Automation:
iPAS automates the document journey generating all Proposals, Orders, Fund Release with a digital signature. It guarantees a transition from manual work to automated processes.
Real-time Monitoring:
iPAS monitors work status and information of documents updating it in real-time.
Lighting Fast Search:
iPAS serves all government guidelines to be accessible at one location, displaying the search results quickly with zero delays.
Decentralized Control:
iPAS eliminates the delay caused due files travelling to different locations and offices thus enhancing the speed of work delivered.
Target Oriented Planning:
iPAS offers annual planning based on a target-oriented approach. The committees can check the allocation and availability of Government, MLA, or MP funds with easy tracking Fund Management and Monitoring System (FMS).
Performance Monitoring:
The Work Monitoring System (WMS) ensures work mapping and quality control with time-bound progress tracking.
Accessibility:
The DPCs with the help of iPAS can access their official documents and information from anywhere and at any time. Mobile-based iPAS offers convenient work monitoring.
Secure:
iPAS manages the permissions using Roles and Permission module, SSL, Digital Signature with password protection thus securing the confidential government information and documents.
Dynamic and Custom Workflow Engine:
iPAS has been designed with the flexibility and comprehensiveness in such a way that it can be easily configured depending on the rules of an office.
Dashboard:
The dashboard in iPAS is designed depending on the user requirements. The dashboard formulates the status of workloads, Fund allocation, and availability, etc.
Notification and Alert:
The system generates notifications and alerts to the individuals if an event has occurred.
MIS:
The system generates MIS reports for easy management and control of funds. The reports can be generated Daily, Weekly, Monthly, & Yearly with standard and unique formats.
Digital Signature:
The system automatically generates work certificates capturing the information from implementing agency generating digital copies.
SDG Mapped:
This module is mapped with Sustainable Development Goals (SDG) parameters using scheme, plan, and nature of work.
USPs of iPAS:
Planning Control:
iPAS with its target-oriented approach delivers automated work, budget, project, etc. planning.
Admin Control:
iPAS ensures work and financial approvals with digital signatures by the administrative team with no delay.
Estimation Control:
iPAS digitizes sanctioning and approval of the estimated budget for a government project.
Financial Control:
iPAS simplifies fund management and control ensuring quick allocation and availability of funds.
Workflow Control:
iPAS offers work scheduling, workflow management, work algorithms, etc. automating the workflow.
Work Control:
The work control system enables easy proposal and sanctioning of work ensuring time-bound progress tracking
MIS:
iPAS delivers digitized MIS reports formulating work progress, approval reports, accounts reports, etc.
Mobile APP:
Mobile-based iPAS ensures continuous work monitoring at any time and from anywhere.
Wrap Up:
The Digital India mission has given rise to technological advancements in the industrial and government sectors, empowering Indian society. Kick-starting the "Go- Paperless revolution", ESDS iPAS has successfully managed to automate the planning processes of DPCs. It serves all the government guidelines to be accessible at one place delivering transparency with a 360° view of work, schemes, and projects.
The IT Companies like ESDS are innovating Digital technologies contributing to the Digital India Mission. To know more about iPAS- Integrated Planning Automation System connect to us at [email protected] | 18002093006

Latest posts by Priyanka Chaudhari
(see all)