ESDS has been awarded by the prestigious "CIO Choice 2018" Honor and Recognition under the category titled, 'Public Cloud' for its double patented Auto-Vertical Scaling "eNlight Cloud". It is one of the most credible accolades in the industry as it is regarded as the voice of the customer; it is the CIOs verdict for recognizing and celebrating preferred products, services and solutions. Dr. Rajeev Papneja (COO & EVP) and Mr. Sanjeev Kumar (National Sales Head) received this award on behalf of ESDS by the hands of Mr. Sanjay Narkar (CIO, IDFC) and Mr. Shailesh Joshi (CTO, Birla Estate).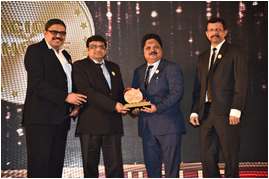 Indian Cloud Service Provider ESDS Software Solution Pvt Ltd walked away with the top honour in the 'Public Cloud' category at the recently held CIO CHOICE 2018 awards held in Mumbai. ESDS, a leading name in cloud computing and data centre services, won the award for its double-patented eNlight Public Cloud platform.
Founded in 2005 by first generation entrepreneur Piyush Somani, ESDS is one of India's leading Managed Data Center Service and Auto-Scalable Cloud Solution providers. This Uptime Institute certified Data Center has been empanelled by the Ministry of Communications and Information Technology, GoI. Mumbai-based ESDS hosts more than 50 Government PSU Organization & more than 270 banks, 400+ ULBs & few Smart Cities on its double patented Make-in-India Cloud technology.
ESDS' eNlight Cloud is a specially engineered intelligent cloud computing architecture that gives the right cloud infrastructure, perfectly pooled resources and forever technical support to run business enterprises dynamically.
Speaking on the occasion, Piyush Somani, Founder & CEO at ESDS, said, "We are delighted to have received this recognition. We are committed to partner with customers of all scale and sectors to empower them adopt the 'Cloud First' approach and transform their IT strategy said This award is a testimony of our efforts and we are focused in ensuring that we continue to set industry benchmark through breakthrough innovations."
The Cloud Services Vendor Category -- Public Cloud -- recognizes the preferred product that delivers a public-cloud-based solution to large or small organisations. CIO CHOICE is a special vendor recognition bestowed on outstanding ICT brands on the basis of stated preferences of CIOs and ICT decision-makers. Over 400 of the who's who of the ICT community were present at the 6th annual CIO CHOICE ceremony to cheer on ICT brands voted by over 5500 CIOs as their most preferred and trusted ICT partners.
Congratulating ESDS, Anoop Mathur, Founder and President, CORE Media that organises CIO Choice, said, "This validation from the CIO community highlights ESDS' creative vision, customer-centric philosophy and practical leadership in providing a wide array of capabilities and driving business value for their customers."
For more information, press only:
Vishal Joshi | Mobile: +91 9011009700 | Email: [email protected]